You can now save and update your favorite filter settings as
Bookmarks
within the Media Tab! When you have filter settings the way you want them, click
Save as…
and give it a name. It will appear in the new Bookmarks button menu, seen here: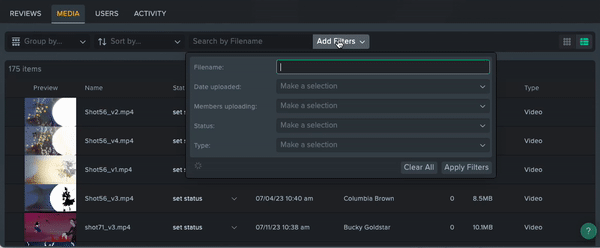 The Manage Bookmarks dialog allows you to
rename
,
duplicate
,
delete
, or
reorder
saved bookmarks.

In this example, the Manage Bookmarks dialog is used to duplicate a bookmark that shows one student's recent work, and then to rename it to set up a corresponding bookmark for another student.

In the Save Bookmark dialog, existing bookmarks that match what you begin to type appear in a list below. Selecting from this list allows you to update that bookmark with the current settings.
In this example, the renamed duplicate is updated to display the correct student's recent work in the Media Tab.

Note: Bookmarks are unique to each user. As before, the bookmarks can be shared by copying the URL from the browser's location bar. The recipient can save and update their bookmarks in the same manner.
_____________________________
Accounts that host their own media no longer see irrelevant storage usage statistics.
During login, an email account that is determined to be part of a Single Sign-On enabled account will now be presented with a more prominent SSO login button. A link on the SSO login page can still allow the user to log into their email's own workspace, if that is really their intent.
Cosmetic enhancements to improve readability when editing text.
When decreasing seat counts in Enterprise accounts, there is now messaging explaining that the changes will take effect at their next plan renewal.
Gestures can now scroll the Settings pane in the 3D Viewer.
The sunsetted Playground feature has been removed completely.
For Free and Education accounts, sketches are no longer offset by a frame when using Download Video With Sketches
In the Media Tab, filtering results by date now works properly.
Documentation for minimum required ShotGrid permissions have been updated.
3D content now loads properly in older versions of Safari.
Net 30 payment terms are now established more reliably in our billing.
Fixed an Azure authentication method mismatch that could impact login.