The Media tab allows you to manage all the uploads in a Project in one place. It features filtering, grouping, sorting, previewing, and batch operations such as copying, moving, deleting, and changing approval status. You can also annotate items with sketches and comments from the Media tab in a type of ad-hoc Review called a Quick Review.
It is accessible from the Project Overview page, next to the Reviews tab, which shows all the Project's reviews by default. When first opened, it offers all of the items from every Review in the Project, including archived Reviews, in Grid view: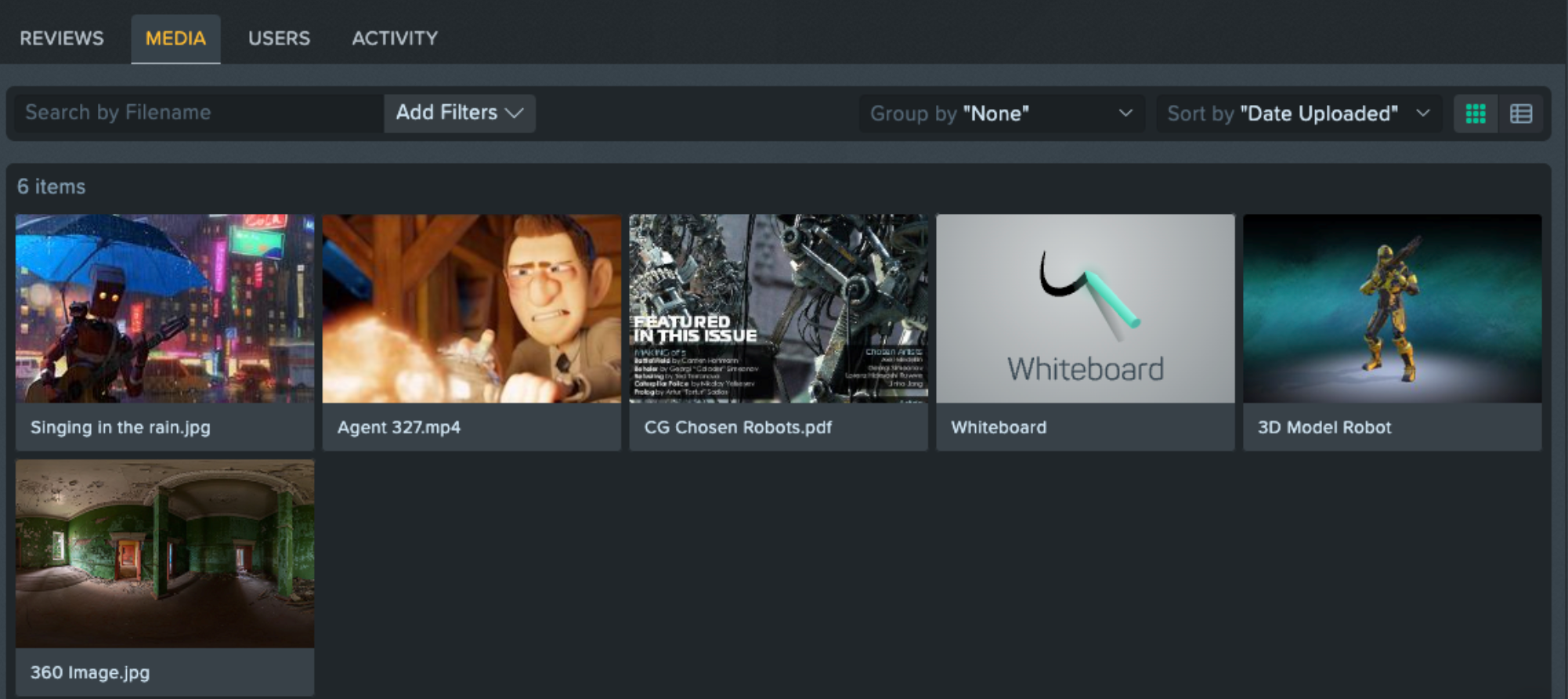 You can switch it into a spreadsheet-like Table view in the same manner as in the Reviews tab:

Read managing media with the Media Tab for more details.
For a deeper dive into all the changes in 2.15, see the full release notes below.
The Workspace administrator can now remove the video chat controls from all Reviews.
Multi-Factor Authentication is now available for all account types, not just Enterprise. See Multi-Factor Authentication for how to use it.
Improved default size for the Ballpoint Pen tool.
We've improved error messaging for storage limits, project naming character limits, and corrupt sketches.
The "Enable School Interface" option is now available to all customers, not just Education accounts.
It's now easier to see what object you clicked on for focus in the 3D Viewer while using the orthographic camera.
Several iOS Improvements:
You can now select multiple items in Grid view in the Media Tab when starting a Quick Review.
Action Bar icons have proper spacing when in portrait mode.
Remove pinch/spread gestures for zooming the Review Player. These gestures caused unwanted and confusing side effects. Only a two-finger scrolling motion will zoom the player. Pinch/spread may zoom the browser viewport but not the SyncSketch Review Player.
When switching from the grid view to the table view, the space-bar shortcut now previews the correct item.
Fixed issue where the first frame in a review didn't always show sketches on the first frame without moving to a different frame and going back.
Clicking the preview button in the Activity Log will now open a preview of the item, if available.
You can no longer send invites that do not yet have an invitee.